9月23日,陆通轮胎经销商大会在巴基斯坦伊斯兰堡成功举办,陆通轮胎海外团队与当地200家经销欢聚一堂,共议发展大计。此次大会是2019年陆通轮胎海外第一场重大会议,更是陆通轮胎实施营销当地化战略的重要举措。
On September 23, the Roadone Tire Distributor Conference was successfully held in Islamabad, Pakistan. The RoadoneTire Oversea sales Team and 200 local dealers gathered together to discuss the development plan. This conference is the first major overseas conference of RoadoneTire in 2019, and it is also an important measure for Roadone Tire to implement the localization marketing strategy.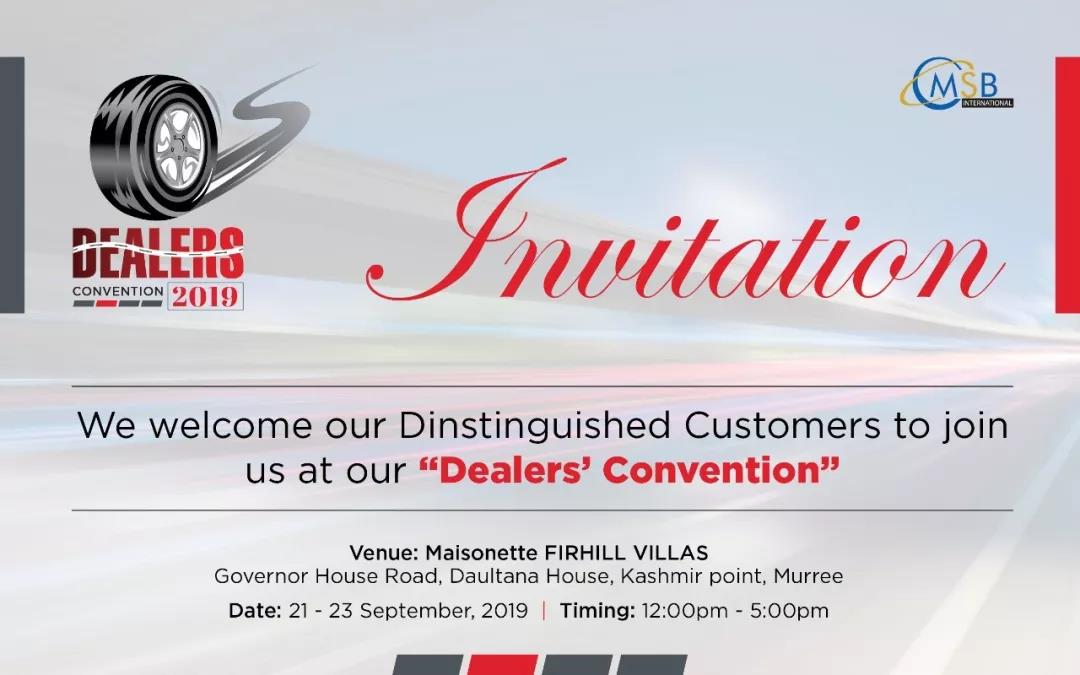 近年来,陆通轮胎积极响应国家"一带一路"倡议与"中巴经济走廊"建设计划,持续研发适合巴基斯坦当地市场的新产品,不断提升陆通轮胎在巴基斯坦的品牌知名度,为中巴友谊注入新的活力。与此同时,陆通也正在不断加速全球化的步伐,制定出营销当地化、制造洲际化、研发全球化的海外发展战略,不断践行"创陆通世界名牌"的企业使命。
In recent years, Roadone Tire actively responded to the national "Belt and Road" initiative and the "China-Pakistan Economic Corridor" construction plan, continuously researching and developing new products suitable for the local market in Pakistan, continuously improving the brand awareness of Roadone tires in Pakistan, and injecting friendship into China-Pakistan friendship. At the same time, Roadoneis constantly accelerating the pace of globalization, and formulating overseas development strategies of localization, intercontinent alization, R & D globalization, and continuously fulfilling the corporate mission of "Creating Roadone World Famous Brand".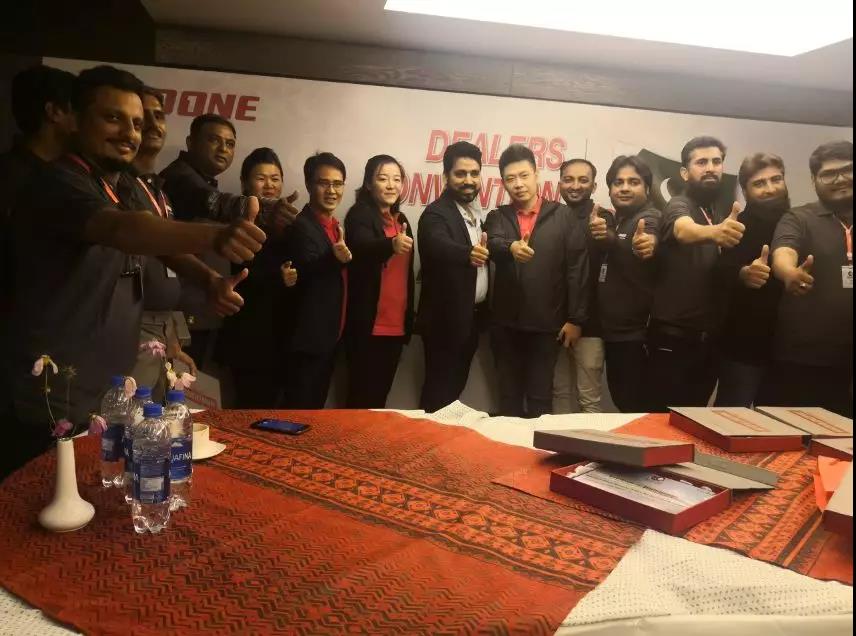 2003年,华勤集团创立了陆通品牌,2004年陆通轮胎进入国内外市场,针对中国卡客车市场国际品牌水土不服、本土品牌缺乏技术的现状,2014年,华勤集团投资组建通力轮胎有限公司,陆通品牌重装上阵,通过多年当地化深耕细作,陆通轮胎在巴基斯坦恶劣的路况经受住了考验,逐渐赢得了终端用户的信心。陆通将继续改进老产品,努力成为巴基斯坦替换轮胎的第一选择!

In 2003, HIXIH Group founded the Roadone brand. In 2004, Roadone tires entered the domestic andforeign markets. In response to the current situation that the international brands in China's truck and bus market are not satisfied with the local brands, and in the absence of technology in 2014, HIXIH Group invested in the establishment of TONGLI tires with Roadone brand, through years of localizationand intensive cultivation, Roaodne tires withstood the test in Pakistan's toughroad conditions, and gradually won the confidence of end users. Roadone will continue to improve its old products and strive to become the first choice for Pakistan replacement tires market!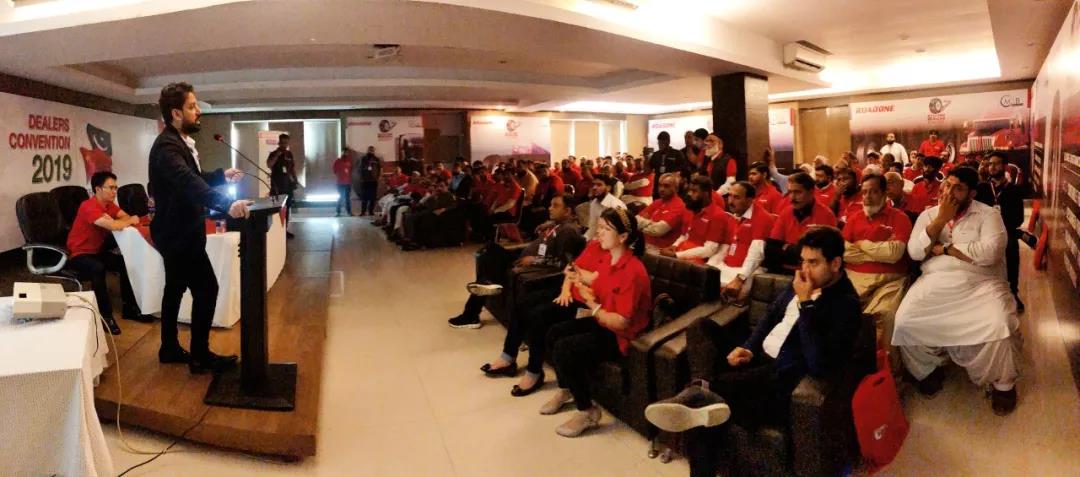 面对复杂严峻的国内外经济形势,华勤集团牢牢秉承"两个毫不动摇、两个坚持、一个目标"的发展方针,以国际化视野、开放式思维、创新性举措,打赢了强强联合、市场开发、大项目建设等一系列攻坚战,实现了高水平、高质量发展,创造了迎难而上、逆势上扬的良好业绩,充分体现了华勤集团越是困境越稳健、越是危机越发展的独特优势。
Facing the complicated and severe domestic and international economic situation, HIXIH Group firmly adheres to the development policy of "two unwavering, two persistences and one goal", and wins a series of tough battles, such as strong alliances, market development, and large-scale project construction with international vision, open thinking and innovative measures. Achieving high-level and high-quality development, and have created good performances that have risen to the challenge and risen against the trend, fully demonstrating the unique advantage that the more difficult the HIXIH Group face, the more stable HIXIH become, more development with more crisis.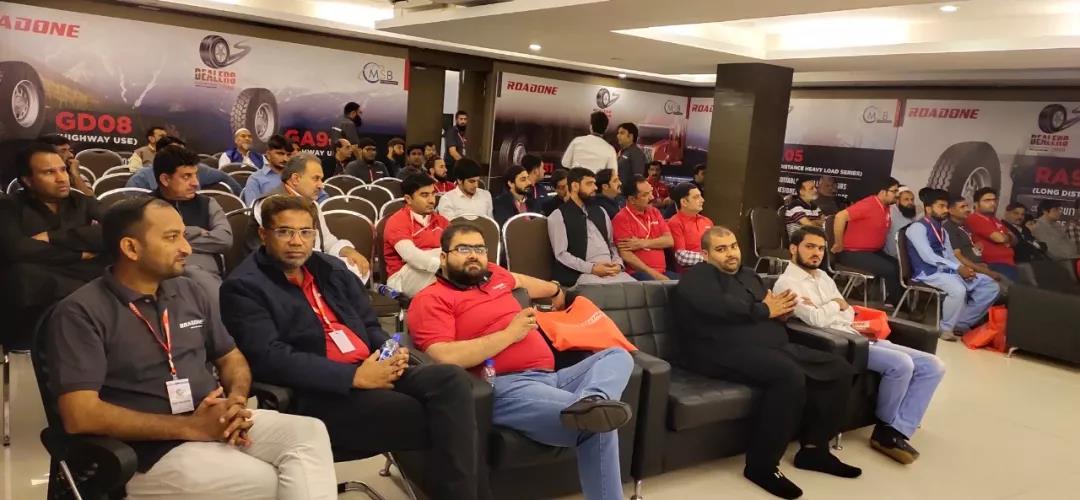 以此次海外会议为起点,陆通将开展更多的当地化营销活动,不断提升产品自主创新能力和核心竞争力,创造完善的质量体系和国际品牌将是陆通第一要务,陆通将持续为客户提供更高的服务质量,增加海外市场份额,不断完善市场销售体系、制定符合当地化的销售政策,共同提高陆通品牌服务质量。
Taking this overseas conference as the starting point, Roadone will carry out more localized marketing activities, continuously improve its independent innovation capability and core competitiveness, and create a perfect quality system andinternational brand will be the first priority. Roadone will Continue toprovide customers with higher service quality, increase overseas market share, continuously improve the market sales system, develop local sales policies, andjointly improve the quality of Roadone brand services.
陆通轮胎将以优异轮胎品质为根基,对接全球轮胎市场,打造更全面、更密集的世界轮胎市场网络。努力打造经济发展新引擎、形成经济发展新动力,让"轮胎智能制造"真正与"高端中国制造"画上等号,打造永不褪色的"高端中国制造"新名片!

Roadone Tire will be basedon excellent tire quality, docking the global tire market and creating a more comprehensive and dense network of world tire markets. Efforts will be made tocreate a new engine for economic development and to create a new impetus foreconomic development, so that "Tire Intelligent Manufacturing" willbe equated with "High-end Made in China" to create a new"high-end Made in China" business card that will never fade!