04月24日-04月27日,2023年俄罗斯莫斯科轮胎展览会(Rubber Expo)在莫斯科红宝石展览中心隆重举行。陆通轮胎在FB072号展位惊艳亮相,吸引了众多客户咨询、下单,为进一步拓展国际市场、获取新的合作机会打下了坚实基础。
From April 24th to April 27th, the 2023 Russia Moscow Tires & Rubber was grandly held at the Expocentre at Krasnaya Presnya in Moscow. The products of Roadone Tyre Co.,ltd. made a stunning appearance at booth FB072, attracting many customers to inquire and place orders, laying a solid foundation for further expanding the international market and obtaining new cooperation opportunities.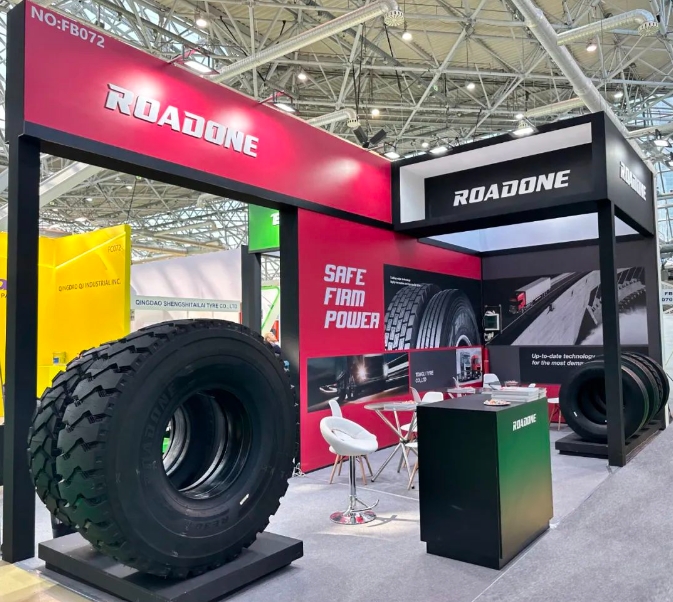 莫斯科轮胎展是俄罗斯及独联体地区规模最大的专业展之一,也是俄罗斯唯一的轮胎、橡胶制造和贸易展览会,以专业性强、辐射范围广著称,每年举办一届,吸引了众多国际轮胎企业云集于此。
Moscow Tires & Rubber is one of the largest professional exhibitions in Russia and the CIS region. It is also the only tire and rubber manufacturing and trade exhibition in Russia and known for its strong professionalism and wide range of radiation, it is held every year and attracts many international tire manufacturer and trading company to gather here for this exhibition.
俄罗斯有世界最大储量的矿产和能源资源,主要进口商品是机械设备、化工品和橡胶制品。受疫情及俄乌战争的影响,俄罗斯轮胎销售市场也一度陷入低谷,轮胎需求收缩,当地国际品牌的轮胎产量下降,这也为俄罗斯国内制造商创造了新的机会,并为从中国进口的轮胎产品打开了大门。伴随着疫情结束,俄罗斯轮胎市场也开始逐渐回暖升温,国外客户纷纷开始下单采购,供应商们也各展身手,向经销商们抛去橄榄枝。
Russia has the world's largest reserves of mineral and energy resources, and its main imports are machinery and equipment, chemicals and rubber products. Affected by the epidemic and the Russia-Ukraine war, the Russian tire sales market also fell into a slump for a while, the demand for tires shrank, and the production of local international brands of tires declined. But this has also created new opportunities for Russian domestic manufacturers and opened the door for imports of tire products from China. With the end of the epidemic, the Russian tire market has begun to pick up gradually. Foreign customers have begun to place orders for purchases, and suppliers are also doing their part。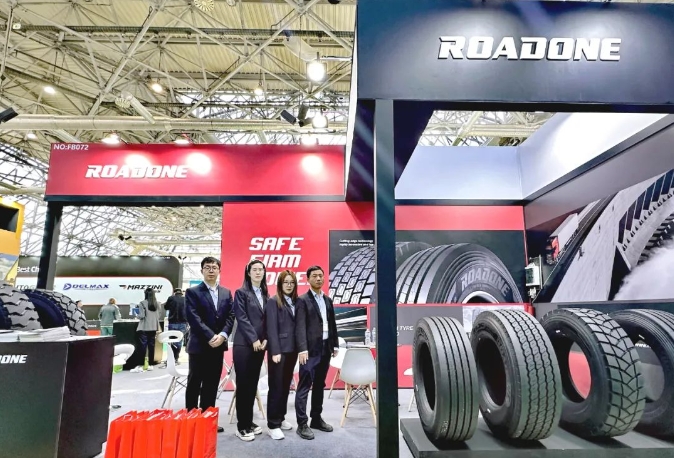 陆通轮胎销售团队为俄罗斯市场破冰之行做好了充分准备,此次陆通携带315/80R22.5 20PR HF231、315/70R22.5 20PR HF81、315/80R22.5 22PR GD58、385/65R22.5 24PR RA36、14.00R25 E-4★★★ RE406、16.00R25 E-3★★★ RE301等拳头产品参展,精彩呈现了陆通轮胎领先的创新成果和强大的研发实力,获得广泛赞誉。其中,385/65R22.5 24PR RA36型号轮胎受到了莫斯科当地观展人士的广泛关注,产品采用高耐磨的胎面配方设计,保证在高速、国道等混合路况下实现更高里程,冠部高强零度冠带设计技术,低生热胎面下层胶配方设计,肩部材料优化设计,抑制畸形磨损,充分体现了陆通轮胎在轮胎技术研究领域的领先水平,吸引了众多业内人士与消费者驻足观看,一度成为现场焦点。
The Roadone Tire sales team is fully prepared for the ice-breaking trip to the Russian market. This time Roadone Tire brought its products 315/80R22.5 20PR HF231, 315/70R22.5 20PR HF81, 315/80R22.5 22PR GD58, 385/65R22.5 24PR RA36, 14.00R25 E-4*** RE406, 16.00R25 E-3*** RE301 and other high-profile products participated in the exhibition, which brilliantly presented Roadone Tire's leading innovation achievements and strong R&D capabilities, and won wide acclaim. Among them, the 385/65R22.5 24PR RA36 tire has attracted extensive attention from local visitors in Moscow. The product is designed with a high-wear-resistant tread formula to ensure higher mileage in mixed road conditions such as high-speed and national highways. The crown is high-strength. The zero-degree cap design technology, low heat generation under-tread rubber formula design, shoulder material optimization design, and abnormal wear suppression fully reflect the leading level of Roadone Tire in the field of tire technology research, attracting many industry insiders and consumers to visit , once became the focus of the scene.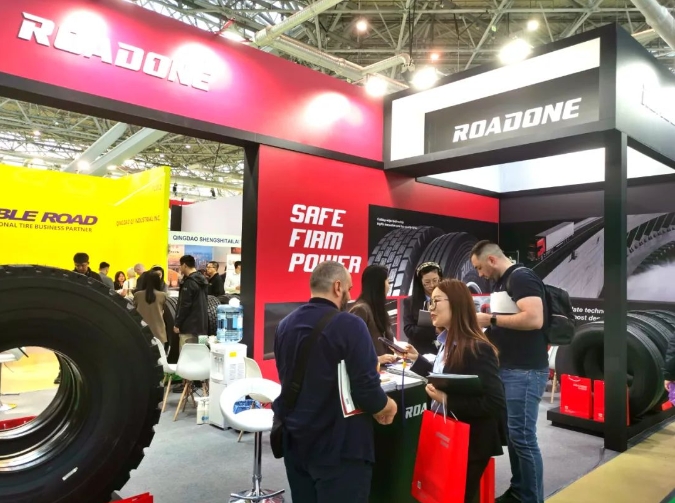 近年来,陆通轮胎秉持"让世界重新认识中国轮胎"的企业使命,以用户和市场需求为目标,制造更加"安全耐用 动力强劲"的高品质轮胎,市场美誉度和口碑不断提升。公司产品不仅畅销国内,还远销全球100多个国家和地区。卓越的产品质量与服务受到海内外客户的一致好评,取得了一系列骄人业绩。

In recent years, Roadone Tire has been adhering to the corporate mission of "let the world re-understand Chinese tires", aiming at users and market needs, and manufacturing high-quality tires that are more "safe, firm and power", and the market reputation and word-of-mouth have been continuously improved. The company's products are not only sold well in China, but also exported to more than 100 countries and regions all over the worl. Excellent product quality and service have won unanimous praise from customers at home and abroad, and achieved a series of remarkable achievements.
千里之行始于足下,通过此次莫斯科轮胎展,陆通轮胎向世界展示了企业风采,进一步增强了品牌影响力。未来,陆通轮胎也将立足当下,以客户和市场为中心,从业务发展和技术研发入手,努力探索、开发出更多具有国际先进水平的高品质轮胎,以满足全球市场和客户的不同需求,为中国轮胎行业的繁荣发展添砖加瓦。
A journey of a thousand miles begins with a single step. Through the Moscow Tire & Rubber, Roadone Tire showed its corporate style to the world and further enhanced its brand influence. In the future, Roadone Tire will also base itself on the present, focus on customers and the market, start with business development and technology research and development, and strive to explore and develop more high-quality tires with international advanced level to meet the different needs of the global market and customers. Contribute to the prosperity and development of Chinese tire industry.
预祝陆通轮胎俄罗斯参展成员捷报频传,凯旋而归!
Wish the members of Roadone Tire Russia exhibitors to come back triumphantly with frequent success!